Solar Pump Inverter VFD
 Aspire Voltronics VFD Pump Inverter
Advantage Function :
 1- Drive your any local water pump 
 2- muti-input solution : Solar /grid /battery /generator all can be input as power
 3- One step operation : Automatic to achieve the highest efficiency 
 4- Self-protection and self-diagnosetics (trouble code) system 
 5- Compatible with 220V 1- phase & 3-phase pump/motor
 6- set working time and working frequency range  
 7- High level quality 
The solar pump inverter out 3 Phase 3 Phase excellent output ensure you get strength and a long life and low maintenance costs to improve the water pump solar inverter performance of the day , the MPPT it is environmentally friendly with the construction starts and stops automatically ,  based on solar radiation intensity
Main Features
Built-in MPPT solar charger
Three-phase asynchronous motor support
Built-in security and self-assessment
The soft start function prevents water hammer effect and extend the lifecycle
Comprehensive LED status display screen for real-time systems
Remote monitoring via RS-485

Model
Aspire 2.2KW
Aspire 7.5KW
Aspire 11KW
PHASE
3-phase in/ 3-phase out
MAXIMUM PV ARRAY POWER
3500 W
12000 W
17600 W
RATED OUTPUT POWER
2200 W
7500 W
11000 W
PV INPUT (DC)
Maximum DC Voltage
800 VDC
Start-up Voltage
350 VDC
MPPT Voltage Range
500~600 VDC
Number of MPP Trackers
1
OUTPUT
Nominal Voltage
3 x 380/400/415/440 VAC
Efficiency
> 97%
Output Current
5.1 A
17 A
26 A
Motor Type
Three-phase asynchronous motor
Frequency Precision
±0.2%
PROTECTION
Full Protection
Over-voltage, under-voltage, over-current, surge, over-temperature, short circuit protection
PHYSICAL
Dimension, D x W x H (mm)
110 x 230 x 330
Net Weight (kgs)
5.5
6
6.5
Type of Mechanical Protection
IP20
INTERFACE
Communication Port
RS-232/RS-485
ENVIRONMENT
Humidity
< 95% RH(Non-condensing)
Operating Temperature
-20°C ~ 45°C at 100% full load, 46°C ~ 60°C power derating
Product specifications are subject to change without further notice.
Veichi Solar Pump Inverter VFD
Veichi VFD PUMP Inverter for Solar Tubewell and Motors
VEiCHI SI Series veichi solar pump inverter in Pakistan is a high-efficiency solar water pump controller which can make full use of solar energy to drive water pumps for agricultural irrigation, water supply system, fountains, ground water lowering and etc. As the solar water pumping system is eco-friendly and economical, VEICHI SI series solar pumping controllers of high MPPT efficiency have been widely used in different countries such as India, Vietnam, Pakistan, Mexico and more areas.
Synchronous and asynchronous 3-phase induction motors are supported.
Work well with both surface mount pumps and submersible pumps.
Specially Designed with advanced MPPT and CVT technology.
Support remote monitoring online through GPRS remote monitor system.
If you are seeking for photovoltic VFD inverters for solar powered water pumping system, then you are already arrived to the right store. Our SI20 series solar powered pump inverter is definitely the appropriate choice for you.
Veichi SI20, released to the global market at the end of 2015, is the updated version of SI10 PV pumping inverter. Comparing with SI10, the SI20 series are of enhanced working performance such as in stability, efficiency and other functions. Since the announcement, SI20 has gained more than 1000 successful application examples in various fields like agricultural irrigation, desertification control, stock farming, solar energy powered fountains and so forth. Below are the main features of SI20: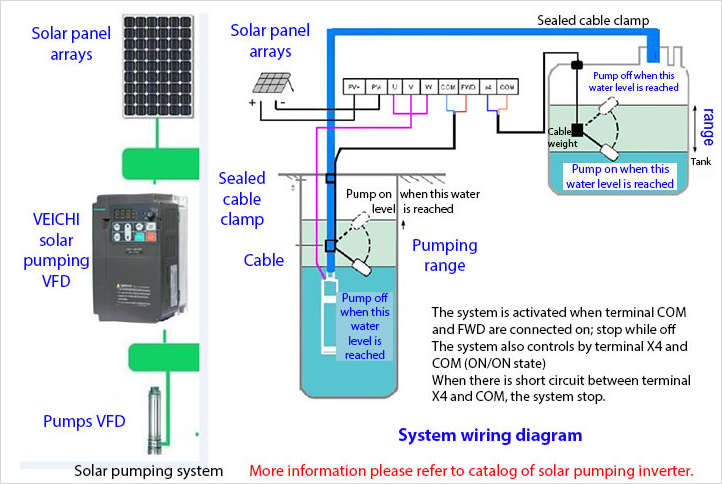 1. Convert DC to AC power
SI20 can convert the direct current generated by solar panels into alternating current to drive photovoltaic pumps.
2. Adjustable output frequency
It is capable of adjusting the output frequency automatically in line with the irradiation intensity.
3. Maximum Power Point Tracking function
Built-in with the MPPT (maximum power point tracking) function, so the photovoltaic pumping system can produce better power outputs to improve the working efficiency of pumps.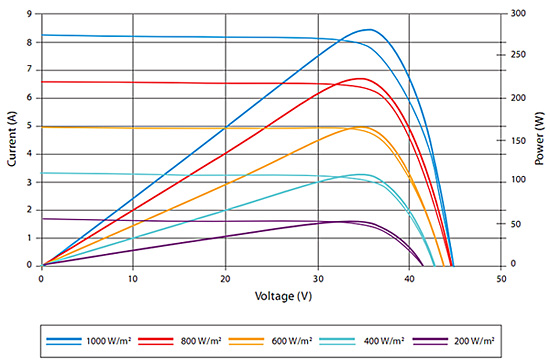 4. Store water, instead of storing power
The energy storing devices such as battery have been eliminated from the system, so all the AC power can be directly used to drive pumps with the lowest energy loss.
5. Asynchronous and synchronous motors are available
While our SI10 can only work with asynchronous 3 phase induction motors, the SI20 series can work perfectly with both asynchronous and synchronous 3 phase induction motors.
6. Support various kinds of pumps
Both the surface mount and submersible pumps are compatible with the photovoltaic pumping system.
7. Remote monitor function
SI20 has inbuilt S200-GPRS that users can monitor the whole photovoltaic pumping system online at home or other place via our PC remote monitoring system. On the basis of user-defined curve, SI20 can automatically calculate the present flow speed, flow per day, present power, total generation and more status parameters of the solar pumping system.



8. USB data recorder
As SI20 has developed with the USB data recorder, so users can duplicate the data excel to monitor the PV pumping system offline at any time.
9. Complete protections
SI20 has designed with a wide range of protection functions such as water fulfill, dry run, low frequency, high voltage, short circuit, over heat, phase missing and more.
10. User-friendly
SI20 is designed with an intuitive operation panel along with detailed instructions, so it is convenient in installation, operation and maintenance. Additionally, the cooling and shielding effect is great.
Besides, Veichi Electric also provides other solar energy products such as PV inverter at wholesale price.
Veichi Manual Download                    Veichi Data Sheet
[wpforms id="4369″]